HOW CAN I HELP?
Donate
An investment that keeps giving. For every $1.00 spent on the SRA program, over $4.00 is returned as direct fiscal benefits represented by increases in federal and state tax receipts (and reductions in federal and state benefits) over the lifetime of SRA students as compared to other low-income, first-generation college students entering four-year colleges1.
1. Economic Returns to the Students Rising Above Program, Clive R. Belfield, Queens College, City University of New York

$10,000 Provides
College tuition for two students for one year

$5,000 Provides
College dorm supplies for ten students
$1,500 Provides
One laptop and a printer for one student

$500 Provides
One year of textbooks

$300 Provides
Provides transportation home from college

$100 Provides
Miscellaneous school supplies
Everything you give makes a difference. Your generosity helps deliver life-changing opportunity through college and careers.
DONATE NOW
Volunteer
Volunteers are crucial to the Students Rising Above mission. There are several ways for you to donate your time and expertise, and be part of our students' college journey. Anything you bring can change the course of someone's life.
Apply now to become a volunteer: Application
Learn More
Partner
Become a Students Rising Above (SRA) Partner and help turn opportunity into reality. We are always looking for community-minded medical professionals willing to provide pro-bono services: General medicine, Dental, Vision, and Mental health/counseling.
Learn More
SRA ANNUAL REPORTS
To request a hard copy of our Annual Report and / or copies of the organization's Form 1023, financial statements, and Forms 990, please contact us.
SRA EVENTS
Our events are a great way to get involved and celebrate Students Rising Above. Check out our upcoming events below for more info.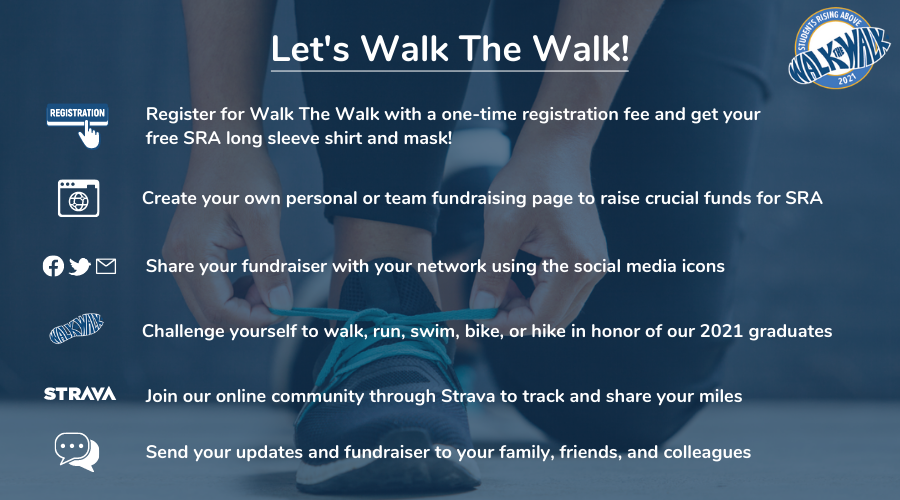 Walk The Walk Fundraising Campaign
Saturday, May 01, 2021
Your Location
21 days to fundraise in honor of our 2021 graduates!
Lace up your shoes and get going May 1st – May 21st, 2021
LEARN MORE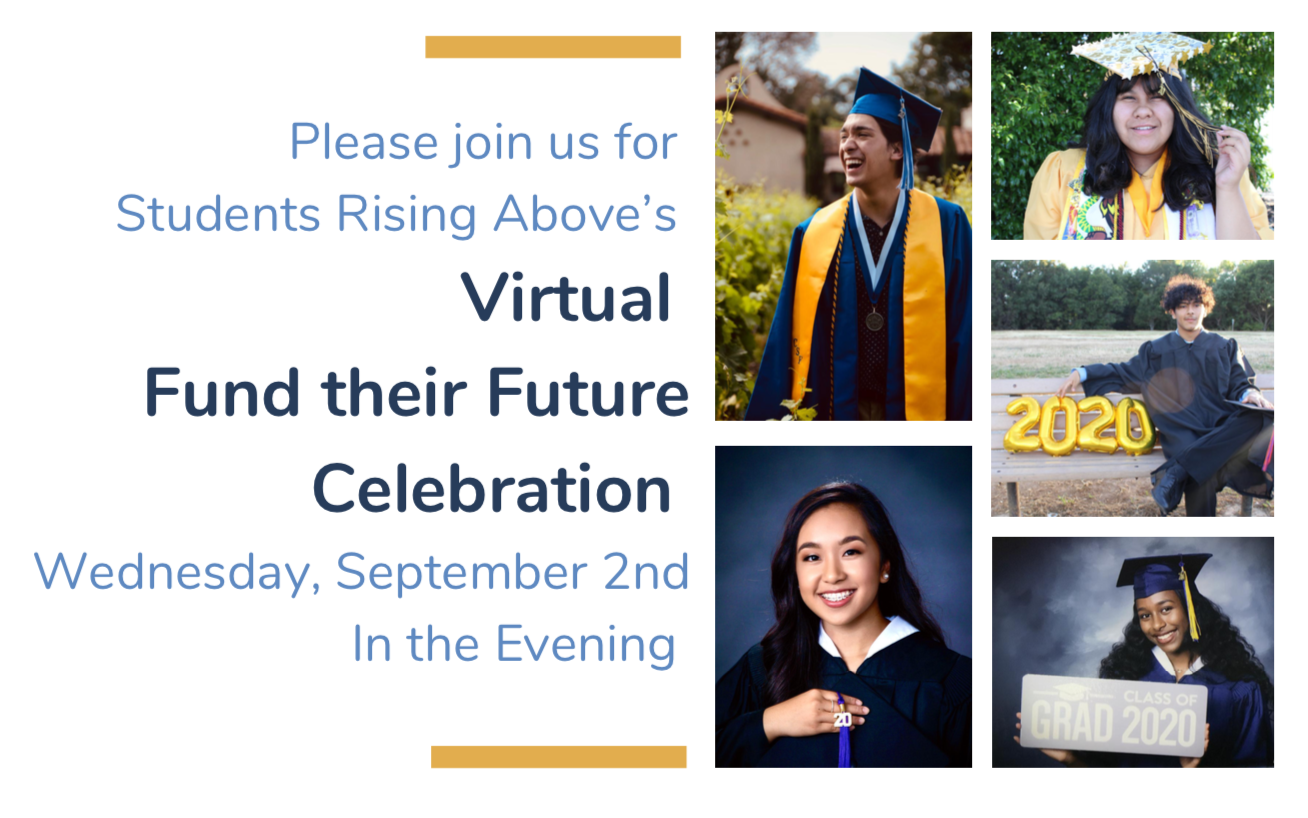 Virtual Fund their Future Celebration
Wednesday, September 02, 2020
Virtual Event
Please join us for Student Rising Above's Virtual Fund their Future Celebration on Wednesday, September 2nd in place of our 17th Annual SRA Gala. This September 2nd, our event will not just be different than any other, it will be more crucial …
LEARN MORE
Celebrate 20 Years of Redefining the Future
Thursday, November 29, 2018
Autodesk 1 Market Street San Francisco CA
Please join Students Rising Above, as we celebrate our 20th year of redefining the future and honor your support and commitment to empowering our future leaders.  Award-winning journalist and Students Rising Above Co-Founder Wendy Tokuda will moderate a panel discussion, along …
LEARN MORE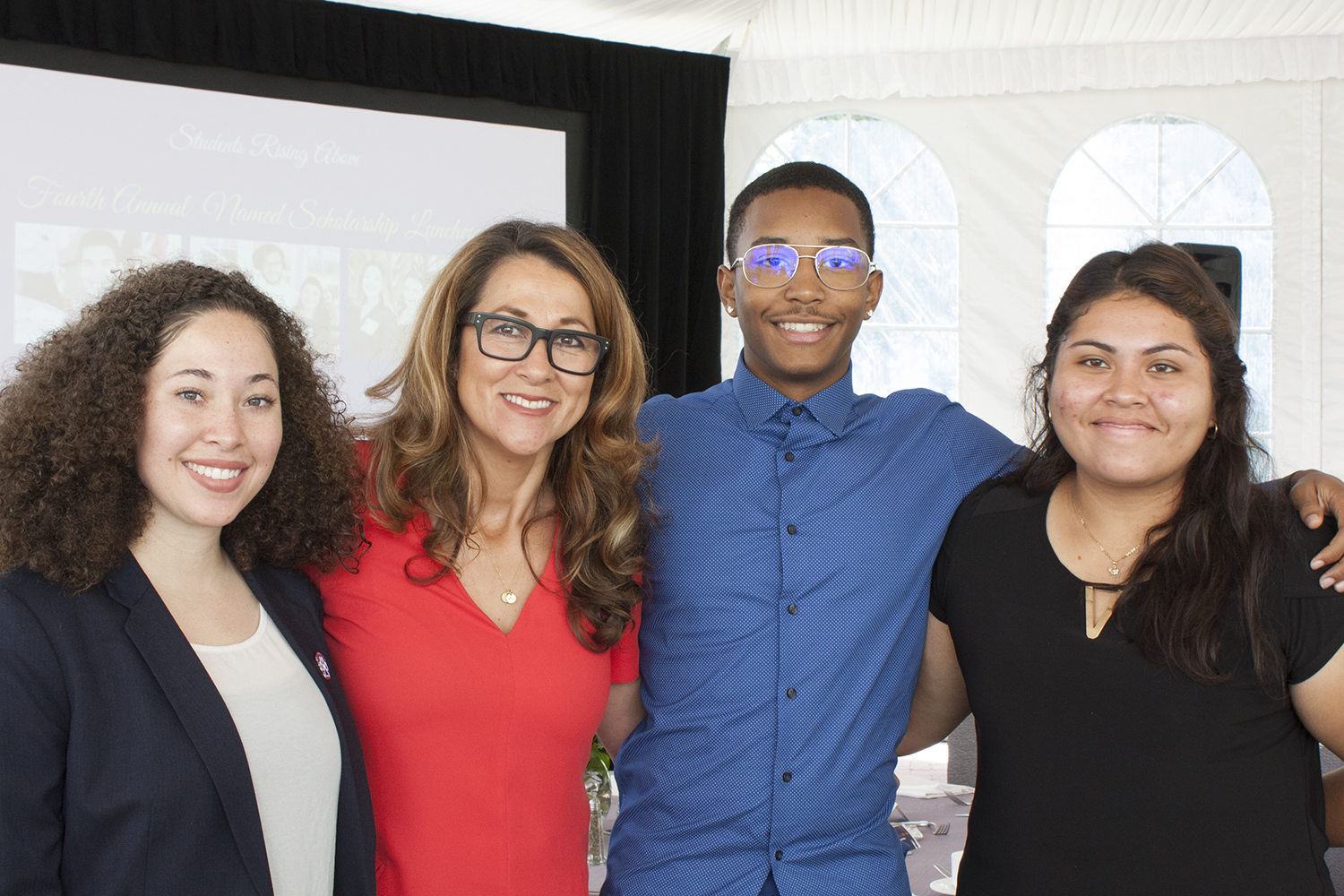 Fifth Annual Named Scholar Luncheon
Wednesday, July 25, 2018
Ritz-Carlton, San Francisco
Our Fifth Annual Named Scholar Luncheon will be held on Wednesday, July 25, 2018 at the Ritz-Carlton, San Francisco. Named Scholar donors are invited to join this intimate gathering of students, donors and select SRA stakeholders in celebration of your …
LEARN MORE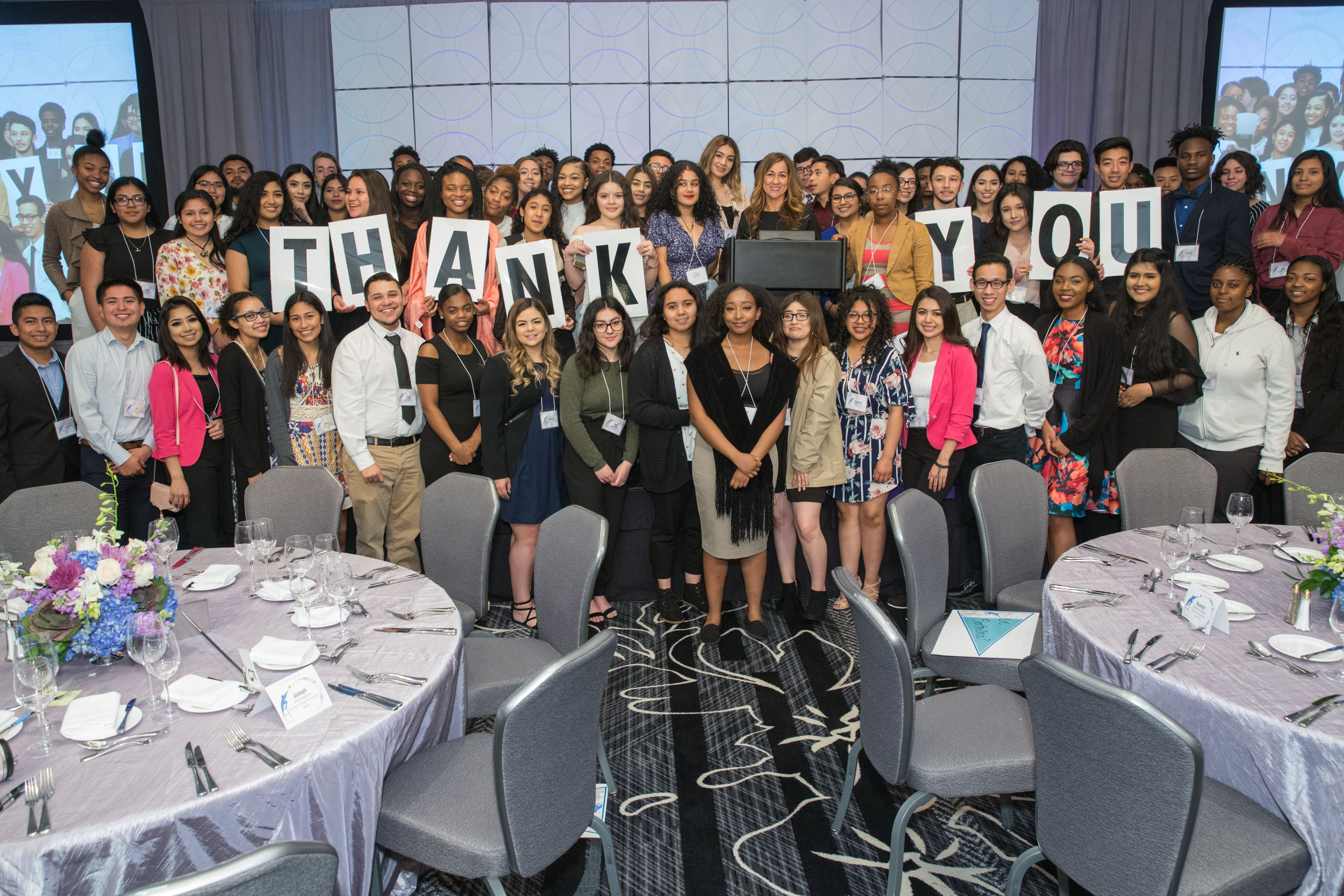 Students Rising Above 16th Annual Gala
Thursday, March 21, 2019
Ritz-Carlton, San Francisco
Save the Date Students Rising Above 16th Annual Gala March 21, 2019 Ritz-Carlton, San Francisco The Students Rising Above Annual Gala is a heartfelt and inspirational evening. Join us as we celebrate students pursuing their dreams through college education and …
LEARN MORE