#DearCommunity from John-Paul Mackey
Posted by

Categories

Blog

Date

October 7, 2020
Dear Community,
Black Lives Matter. 
As a young black man living in the United States, I feel as if it's my duty to get involved in issues pertaining to my race. Previously, I have previously been involved in college organizations like the Black Student Union. Currently, I raise awareness of the injustice towards African-Americans and demand justice for victims of police brutality (ex. Breonna Taylor). Aside from creating content, I enjoy making beats, reading maps, and traveling (virtually, for now).
Have you heard the catch phrase "Defund the Police"? Some activists want cities to move money reserved for law enforcement to other resource. Especially in the wake of the murders of Breonna Taylor and George Floyd in the hands of the cops.
Even Black Lives Matter Co-founder Patrisse Cullors agrees. She believes society downplays basic needs because we belong in an "economy of punishment." In other words, we'd rather criminalize mental health, addiction, and homelessness among other issues, rather than help those struggling with them.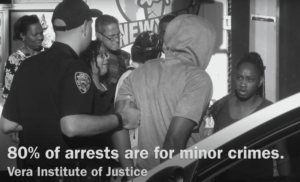 In fact, according to the Vera Institute of Justice, 80% of arrests are for minor crimes including drug dealing and petty theft and this mostly affects people of color. Not only does this take valuable time and money from resources other than law enforcement, but it also prevents society from addressing the roots of those issues: racism and poverty.
Rather than spend lavishly on unchecked, unacceptable bad behavior by cops, how bout we put that money into crisis intervention, social work, rehab clinics, housing and homeless services, anything that can help people get back on their feet rather than just throw them in jail. Not only does this decrease the extreme dependance on the police for everything, but it also creates a safer environment for everyone! 
From,
Paul-John Mackey
#Dear Community is an initiative by SRA to spread awareness about social justice issues, particularly related to the Black Lives Matter movement. This student-voiced series will consist of articles, videos, and other forms of media that our students want to share regarding their personal experiences, why the movement matters to them, and their journeys of growing through unlearning/learning/re-learning. SRA's goal is to amplify and provide a platform for student voices, bring awareness to current and relevant social issues, inform others about how these issues are affecting certain communities (including our students), and inspire ways in which you can help.